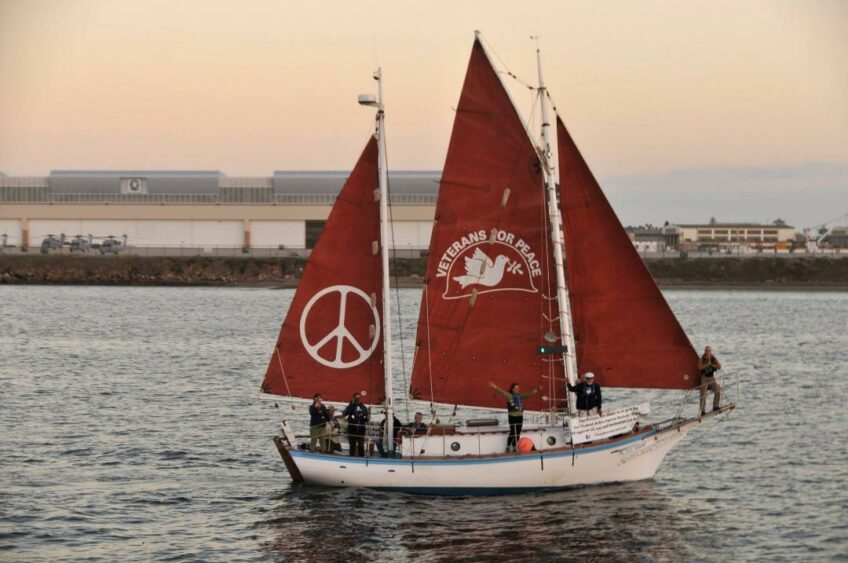 The 39-foot sailboat Golden Rule is sailing into Cleveland to alert us to the need to eliminate nuclear weapons and prevent nuclear war. The historic vessel, restored by Veterans For Peace, will anchor at North Coast Harbor August 5th to 8th, on the 78th anniversary of the atomic bombing of Hiroshima. A welcome event at noon on Saturday will be followed by a commemoration of the Hiroshima bombing at 7 PM Sunday, both at Voinovich Bicentennial Park, adjacent to the marina. Cleveland Peace Action is honored to be the Golden Rule's local host.
In 1958 four Quaker peace activists sailed the Golden Rule from Los Angeles toward the Marshall Islands in an attempt to halt U.S. nuclear weapons testing. The U.S. Coast Guard seized the boat in Honolulu and threw the crew in jail. The international outcry that followed built support for the Partial Nuclear Test Ban Treaty that was signed in August 1963 by President John F. Kennedy and the leaders of the UK and the USSR.
We are sailing for a nuclear-free world and a peaceful, sustainable future," says Helen Jaccard, Golden Rule Project Manager. "The billions of dollars that are being wasted on nuclear weapons and war could be used to address poverty, the pandemic, and climate change, while providing quality education and healthcare for all."
The Golden Rule is currently on a mission to sail throughout the United States with her message of peace, disarmament and sustainability. For more information, see www.vfpgoldenrule.org or call 206-992-6364.
Would you like an educational presentation at your church / club / school? Would you or your organization like to co-sponsor the Golden Rule's visit? Would you like to sail or a tour of the Golden Rule? Contact: [email protected] or 440-703-0215.