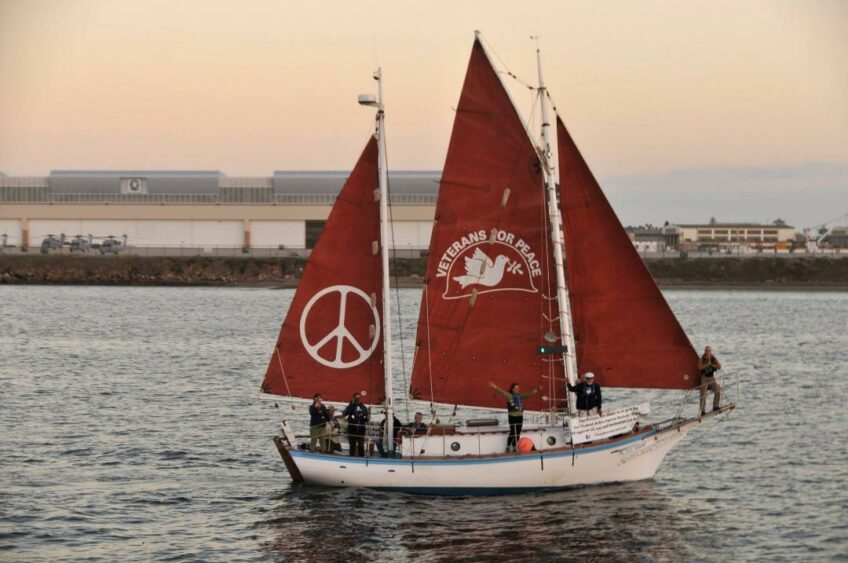 The Golden Rule crew will join us in commemorating Hiroshima Day with words, music and inspiration for a nuclear-free world
Sunday, August 6th at the Free Stamp, Willard Park, Cleveland
Gathering at 7:00 pm – Program begins at 7:30 pm
Featuring the Golden Rule's Helen Jaccard
Speakers Terry Lodge, Pat Marida, and Doug Horner
Music by Doug McWilliams/Jani Wanner and Al Porter
Poetry by Clarissa Jakobsons and the late Daniel Thompson (read by Hailey Moran)
Limited seating available, bring chairs if you can
August 6th and 7th – Sunday and Monday – the Golden Rule is open for tours and possibly a short sail, weather permitting. The crew and support team are also available to meet with community groups, congregations, clubs, and schools.  To find out more, contact Don Bryant/Francis Chiappa, [email protected], 216-509-7211.
More on the Golden Rule – Track her progress towards CLE in real time
The 39-foot sailboat Golden Rule is sailing to Cleveland to alert us to the need to eliminate nuclear weapons and prevent nuclear war. This historic vessel, restored by Veterans For Peace, will anchor at North Coast Harbor August 5th to 8th, on the 78th anniversary of the atomic bombing of Hiroshima. The Golden Rule is currently sailing "The Great Loop" – the Mississippi, Gulf Coast, East Coast, and Great Lakes, with her message of peace, disarmament and sustainability. We will gather to welcome the Golden Rule Saturday at Noon, at North Coast Harbor Marina.
In 1958 four Quaker peace activists sailed the Golden Rule from Los Angeles toward the Marshall Islands in an attempt to halt U.S. nuclear weapons testing. The U.S. Coast Guard seized the boat in Honolulu and jailed the crew. The international outcry that followed built support for the Partial Nuclear Test Ban Treaty that was signed in August 1963 by President John F. Kennedy and the leaders of the UK and the USSR.
"We are sailing for a nuclear-free world and a peaceful, sustainable future," says Helen Jaccard, Golden Rule Project Manager. "The billions of dollars that are being wasted on nuclear weapons and war could be used to address poverty, the pandemic, and climate change, while providing quality education and healthcare for all."