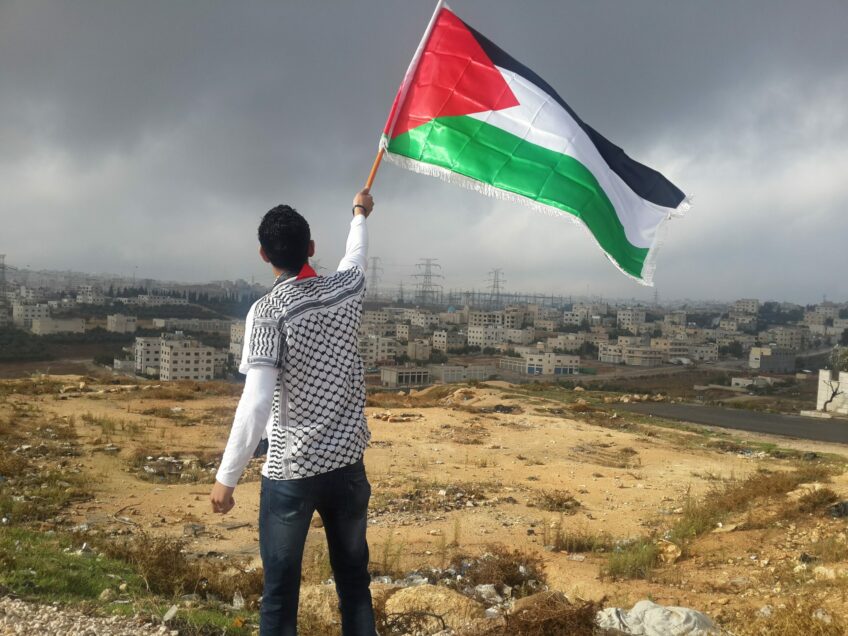 A Cleveland Peace Action Middle East Committee Report
As we begin a new year, unfolding before us is the organized erasure of Palestine. We witness intensified oppression of the Palestinian People and the evaporation of any plans for a Palestinian state, part of what may be a disingenuous offer for a two-state plan promoted by US diplomats.
NEW EXTREMIST, FUNDAMENTALIST GOVERNMENT OF ISRAEL
The situation is likely to get worse as Prime Minister Benjamin Netanyahu was re-elected last November, forming the most extremist fascist government in Israel's history. The right-wing coalition outmaneuvered the left-wing parties which failed to unite under one umbrella for the elections. 1 Even with the right wing's razor thin win in the popular vote they swept to victory in the representative Knesset vote (like in the U.S. electoral college.)
The military occupation is tempting violence with the new ultra-right-wing government poised to come down hard on Palestinians with increased surveillance and arrests of freedom-seeking Palestinians, including children, where "existence is resistance." The 2018 "Nation-State Law" is one of 65 laws to entrench ethnic superiority by promoting racist policies. Half of these laws have been adopted since 2000.
CONTINUED ETHNIC CLEANSING
Israeli land grabs will continue and increase in the West Bank with new settlements and settler violence. The Judification of Jerusalem will proceed, unabated, with Israel's settlement project and consolidation plans for control over the city, considered illegal under international law. The "settlement project" calls for the eviction and demolition of entire Palestinian neighborhoods, Sheik Jarrah, al-Walaja and others in East Jerusalem. In March 2022, the Israeli Supreme Court blocked evictions of the inhabitants, then, in April blocked demolition orders of Palestinian homes in al–Walaja last April. 2 Netanyahu's new government is fighting back to disarm the court with a proposal for controversial reforms, which if enacted would be considered as the most drastic changes in Israel's legal system. The reforms will limit the authority of the country's High Court and give the Israeli government control over the Judicial selection committee. Even Israeli citizens are protesting the proposal.
WHO'S THE "TERRORIST"?
All defenders of human rights for Palestinians are under attack. Multiple human rights organizations were raided last August and six were declared "terrorist organizations." Israeli Defense Minister Benny Gantz claimed that the groups had links to the Popular Front for the Liberation of Palestine (PFLP), a leftist Palestinian political party with a military wing. The "terrorist" designations were dated November 3, 2021, and the Israeli government has failed to provide reputable evidence linking the groups to the PFLP. 3 The Guardian reported that a "classified CIA report shows the agency was unable to find any evidence to support Israel's decision to label six prominent Palestinian NGOs (4) as "terrorist organizations." 5
Meanwhile, vigilante right wing Jewish settlers violently attack indigenous Palestinians, unabated. Particularly notable and consistent are attacks by settlers in the Masafer Yatta area southeast of Hebron, a campaign of terror against Palestinians since 2015. A 2021 attack here brought condemnation from Israeli officials with the US State Dept following with its own condemnation. However, little is done to prosecute the offenders. Israeli Occupation Forces soldiers do not interfere with the settlers attacking Palestinians. Human rights group, Breaking the Silence, said ongoing intimidation against local Palestinians, like stealing goats and sheep, polluting water cisterns, and attacking children on their way to school, continues almost daily. 6
GAZA OFFICIALLY UNLIVABLE
Gaza is in the state of economic failure and near humanitarian breakdown due to Israel's sixteen-year military blockade by land, air, and sea. What nation in the world that calls itself a "democracy" can continue such crimes against humanity? Approximately 80% of the 2.1 million people in Gaza rely on humanitarian assistance, 64% suffer food insecurity, and 59% live below the poverty level. 7
Gaza's health system is constantly on the verge of collapse with shortages of essential medical equipment and supplies, specialists, and electricity. Crucial medical equipment and supplies are routinely banned by Israel. Essential training abroad for healthcare workers is often sidelined due to Israel's travel restrictions. Patients must be referred to hospitals outside of Gaza but are often not granted permission by Israel. In 2021, 36% of medical travel requests were either rejected, delayed, or ignored, preventing patients from receiving needed medical care. 8
The effects of Israel's genocidal military blockade of Gaza have been compounded with four major invasions since 2008, claiming the lives of thousands of Palestinian civilians, causing all manner of injuries, displacement, and infrastructural devastation, including water and sewage treatment operations. The combined attacks damaged at least 51 education facilities, including 46 schools, two kindergartens, an UNRWA (The United Nations Relief and Works Agency) training center, and parts of the Islamic University of Gaza, according to a United Nations' report.
U.S. VIOLATES ITS OWN LAWS BY ARMING ISRAEL
While the U.S. funnels an annual $3.8 billion in military aid to Israel, Palestinians continue to suffer ethnic cleansing, segregation, and apartheid. Every day, one or two Palestinians are killed. There are currently about 4,700 political prisoners in Israeli custody, including 150 children, 34 women, and 835 administrative detainees. Administrative detainees are held indefinitely, in secret, without being charged with a crime, and without access to an attorney. 9 U.S. support for the Israeli government violates U.S. law and international law.
"BDS" IS NONVIOLENT RESISTANCE
To combat Israel's war crimes and crimes against humanity, the nonviolent Boycott, Divestment, and Sanctions (BDS) movement was established by Palestinian Civil Society in 2005. BDS is actively supported globally by human rights groups and conscientious human beings.
Because of BDS's effectiveness in isolating Israel politically, culturally, and economically, anti-boycott laws have been implemented by our own state governments influenced by the Zionist Israeli Lobby. The right to boycott Israel or any entity is Constitutionally protected free speech and yet 33 states have passed anti-BDS laws, not without court challenges and some victories in overturning the laws. Ohio is one of those states that passed anti-BDS legislation in 2016 despite great opposition testimony and three major Ohio newspaper condemnations of the anti-BDS bill, HB 476.
WEAPONIZATION OF "ANTISEMITISM"
Even closer to home, the Case Western Reserve University (CWRU) president, in the fall of 2022, issued a public statement condemning the CWRU Student Government for passing a BDS resolution at the university. He labeled their actions as "antisemitic," conflating criticism of Israel with anti-Jewish bigotry, stifling free speech in what should be a free speech zone. (Please see CPA supports CWRU BDS Res.docx)
COMMIT TO JUSTICE AND PEACE WILL FOLLOW
It is time to make good on the world community's other promise of 1948 along with the creation of the State of Israel the Palestinians were guaranteed the Right of Return to their homes and their land in Historic Palestine, now Israel. Palestinians must be given a seat at the table in deciding how reparations will be administered and how a just peace will prevail in The Land. Let's fulfill that promise beginning with immediately lifting the siege of Gaza and ending the occupation of Palestine. The U.S. must freeze all military aid to Israel. The U.S. must join the chorus of international organizations that recognize Israel as an Apartheid State which has been documented and proven by the United Nations 10 and three major human rights organizations including Amnesty International.
Footnotes
the left-wing Meretz party had run on a joint ticket with Labor, and the Arab party Balad had not broken away from the Joint List party they ran with last time, then Tuesday's election would have produced a 60-60 deadlock, Camil Fuchs, a leading Israeli pollster, told CNN Monday. https://www.cnn.com/2022/11/07/middleeast/netanyahu-election-threshhold-mime-intl/index.html
https://www.timesofisrael.com/supreme-court-freezes-demolition-orders-for-38-homes-in-east-jerusalem-village/
https://truthout.org/articles/israeli-raid-on-seven-human-rights-groups-is-attack-on-palestinian-civil-society/
https://www.theguardian.com/world/2022/aug/22/cia-report-israel-palestinian-rights-groups
The six organization are: Addameer Prisoner Support and Human Rights Association, Al-Haq, the Bisan Center for Research and Development, Defense for Children International–Palestine, the Union of Agricultural Work Committees, and the Union of Palestinian Women Committees
https://mezan.org/en/post/24148/15+years+of+blockade+leaves+Gaza+facing+a+perpetual+health+crisis
https://mezan.org/en/post/24148/15+years+of+blockade+leaves+Gaza+facing+a+perpetual+health+crisis
https://www.aljazeera.com/news/2021/9/13/infographic-how-many-palestinians-are-imprisoned-by-israel-interactive
CPA MIDDLE EAST COMMITTEE ARTICLES
Film screening of Boycott boycott discussion.docx
When Paths Intersect, Let's Talk; CPA Middle East Committee meets with Maltz Museum of Jewish Heritage staff person When paths intersect -Maltz Museum.docx
CPA STATEMENTS
Cleveland Peace Action Supports CWRU BDS resolution CPA supports CWRU BDS Res.docx (pending approval)
Stop the Bombing of Gaza https://www.peaceactioncleveland.org/2022/08/20/stop-the-bombing-of-gaza/
CPA Stands with Sheikh Jarrah families in Occupied Palestine https://www.peaceactioncleveland.org/2021/05/12/cleveland-peace-action-stands-with-sheikh-jarrah-families-in-palestine/
The Genocide of the Palestinian People https://www.peaceactioncleveland.org/2020/11/18/the-genocide-of-the-palestinian-people/
CPA Condemns Israeli Annexation Plan https://www.peaceactioncleveland.org/2020/07/27/cleveland-peace-action-condemns-israeli-annexation-plan/
END-